Be successful in your eyes and in your mind immediately.
Be your own best friend.
Use "Night Affirmation" tonight and enjoy the day with a laugh.
What are affirmations? They are simply any positive or negative statements that we make, as we go through life.
Affirmations are thoughts and your thoughts are affirmations. Affirmations effect the mind, and change the direction of thoughts. They are powerful phrases that reprogram your subconscious mind. Either in a negative or a positive way.
Positive Affirmations are meant to direct your subconscious mind to create the life you want and effectively create the change you want to make. It is one of the most powerful ways to change a limited or negative belief.
If you want your affirmations to have an impact and help you create the changes you want, then you'll have to change your attitude so that what you think is in line with what your affirmations say. Affirmations won't work if you just keep reciting affirmations without believing in them.
Positive affirmations have positive effects on the body. Affirmations can be a powerful tool to help you change your mood, state of mind, and manifest health, wealth, happiness, success, and abundance into your life. They are so powerful that they even change the cells and chemistry of your body.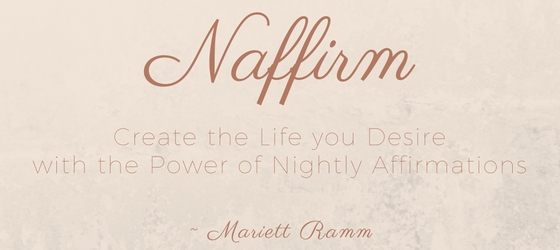 Having been studying the power of affirmations, I have created a powerful tool, night affirmation Naffirm, which works best as it combines the power of affirmations and the healing power of the body. By using this technique there is nothing that will stop you being the person you are meant to be. Happy, wealthy, and healthy. Use this with the power of gratitude.
Tip for daytime affirmations:
The more you can consciously inject your affirmations into your daily thoughts and words, the quicker they will work for you.
If recited daily, while in a relaxed state and with positive feelings, it will dramatically change your life for the better.
Repeating positive affirmations over and over impresses the subconscious mind to such a degree that it slowly starts transforming the body to align with positive thoughts that will give you positive results.
The most powerful way of using positive affirmations is to state them whilst looking in the mirror.
By being in a positive vibrational state, your affirmations will successfully attract and manifest abundance into your life.
Click here to learn more about nighttime affirmations and how they can transform your life.