Life is always full of surprises! Twists, turns, and new opportunities.
Dreams really do come true. And I am the living testimony that the Law of Attraction works, and it works fast without any hard efforts!
It's been a while since we have been in touch and I wanted to share a quick story of what happened with me this year.
In May, out of the blue, the universe presented me with the most amazing fortune. I got hold of a copy of You Were Born Rich a book by Bob Proctor; and just in 6 months, my life has changed like night and day. Bob is a Master Thinker and worldwide leader in the personal development field and my life has shifted drastically in these last six months.
Today, I am running a global business, International Self Development Service, ISDS Ltd.  And am a Leadership Consultant and Mentor, Team-Building Expert, Network Marketing Consultant, and working with Bob Proctor.
Under my personal mentoring and guidance, clients of ISDS are learning and working through top self-development programs based on powerful teachings and concepts from the most motivational and most influential teachers on human potential around the Globe.
I am fully dedicated to share this information with as many people as possible; I believe we can all make our dreams come true. Sometimes it requires a little guidance, and a push. I believe you can, and you will, make that amazing Quantum Leap into Success, Freedom, and Abundance.​​​​​​​
So how did a book change my life?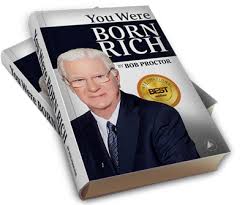 After years of spiralling downward, I have gone from being alone and having nothing, to working with Bob Proctor as a Consultant, Leadership Expert and Mentor, Team-Building Expert and Network Marketing Consultant … all in just 6 months!! I finally understood that I had the power to change my life and reap rewards fast.
You Were Born Rich was my stepping stone into Abundance; The Law of Attraction and Vibration, how to Have a Razor's Edge, how to be a Risk Taker, and how to create prosperity in all areas of my life.
Yes, the book "You Were Born Rich" gave me a full insight into how I could change my way of thinking to create more in my life.  I love Bob's approach as he gives many of his personal wisdoms and a modern perspective on the power of thought & the Law of Attraction along with some of the earlier books (Prentice Mulford, James Allen, Robert Collier etc.).
Bob says:" Everything in history ever accomplished was at first nothing more than an image held in the mind! You are the mental architect of your own destiny."  If I wanted to change or improve my results in the physical world, I had to change my thoughts. And I changed them fast. I understood I had the power within.
"You Were Born Rich" taught me how to find my true self, and my self-image that had been distorted by the fear of failure and the lack of awareness, weakness of attention and poverty of imagination.
Bob Proctor, The Master Thinker, made his book an elegant and stunning read, and I hope it helps you as much as it helped me.
You can download a complimentary PDF copy of the book here. Bob has authorized me to share his book with people I feel might enjoy it, and more importantly who are open to what he shares in it and how you too, can make a shift in your thinking and your life. I hope you take some time and read it from front to back.
It is The Road Map to Your Journey ahead.