What are you grateful for?
Have you really thought about it?
Making a gratitude list shifts your vibration from focusing on what you don't have to what is already abundant in your life. And that sends out a message that you want more to be grateful for.
Click the button below to download your very own gratitude list to use every day. Once you receive your Gratitude List sheet, take a few minutes to write down things you are grateful for on your Gratitude List. By expressing gratitude your energy shifts instantly. It puts you in harmony with your source of supply so that the good in everything moves toward you.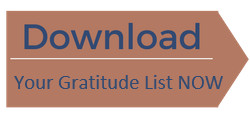 * You will also receive my inspirational tips and news.