Are you wanting to reach a specific goal?
Do you have more than one goal that you'd like to reach?
As Bob Proctor has said, "When you write your goal, it should be written in the present tense. When you write it, you are creating an image in your mind and that image is impregnated into cells in your brain."
Having a Goal card to write down your goal will help you achieve it faster.  A Goal Card helps you keep the goal top of mind and focus on it daily.  Each time you touch your Goal Card, signals go to your subconscious mind and ideas/thoughts pop into your head for how to attain your goal. Your self-confidence and motivation is at a level where you can act on and attain your goal.
Click the button below and download your very own goal card to use.
Once you receive your Goal Card, take a few minutes to write down at least one goal. Put it in your purse or or your pocket and keep thinking about it. You'll reach your goal before you know it.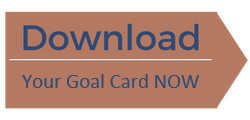 * You will also receive my inspirational tips and news.